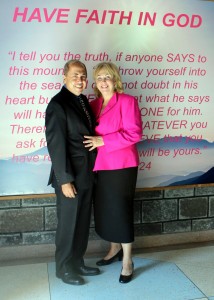 American missionaries Paul and Donna Tocco, founders of Word Ablaze Ministries, have been Christian evangelical missionaries in Kenya since 1993. Donna and Paul are originally from Pennsylvania, USA.  They have three children – Ashley, her husband Chris and their three children, Tiana, Christopher, and Alivia and Jason and Josiah.
Paul graduated with a BS in Business from Richard Stockton State University, NJ, as well as a BA in Theology from Beacon University, GA. Donna also has a BA in Theology from Beacon University.
Donna and Paul Tocco's purpose is to help the people of East Africa receive Jesus Christ. They want to see the lives of others changed by His love and power – just as their lives have been changed.  Through the training that happens at the  Word Ablaze Bible Institute, disciples and leaders are prepared to share the love of Christ to the nations of East Africa.
The Tocco's outreaches include teaching and training pastors and leaders; community development; evangelism; and outreaches to the poor.  Through their diverse mission outreaches, the Tocco's have traveled extensively teaching, preaching and showing the love of God to the African people.