The church is growing rapidly through evangelism in East Africa. However, nearly 90% of pastors and church leaders have never received formal Bible training. Most pastors become pastors after giving their lives to the Lord. However, the large majority have never received any formal training and just start a church. This is why the the Word Ablaze Bible Institute is necessary: there are many pastors but not great depth because pastors have little knowledge of the Word of God. The church in East Africa is a mile wide – but an inch deep.
Sponsor a Student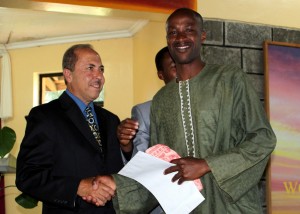 For only $250 or just $20 a month, you can provide an 8 week session (1 level-20 courses) of Bible training for one student.
This fee includes room and board and all teaching materials.
By helping to train one pastor you are reaching a thousand or more with the Word of God.
Support Us Monthly
Please consider supporting us monthly. This really helps us with the cost of living here so that we can continue to help the pastors and leaders grow in the Word of God and help the communities of East Africa.
Send Support to:
World Missions and Evangelism
P.O. Box 790
Benton, KY 42025
Make check payable to W.M.E. #018
or